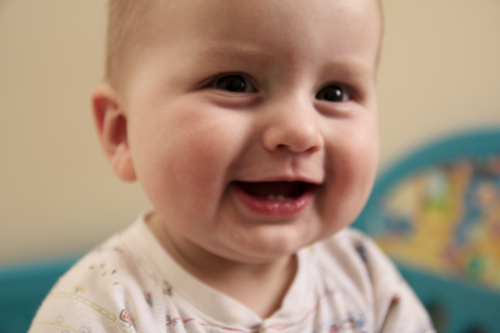 Today we celebrate the fact that our baby boy is 9 months old! I know this photo is blurry, but it is the best I could get to show of his dazzling pearly whites – all two of them! He cut these teeth about a month ago, but this is the first time he's shown them off for the camera.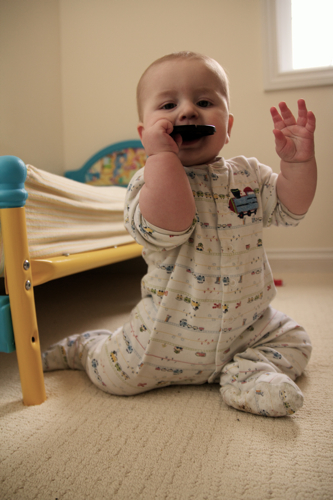 "Oh yum, a lens cap. Thanks, Mama!"
See how he has one leg in front of him, and one turned behind? This is one of the ways he gets around. He sort of pushes himself forward with the back leg. It's kind of hard to explain. He does not appreciate being on his tummy and is not interested in crawling. At least he is creative to find other ways to move!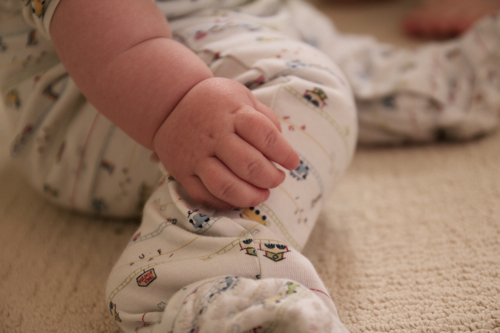 And just because everyone loves a chubby baby – a look at his delicious hand and forearm. I could eat you up, Deacon!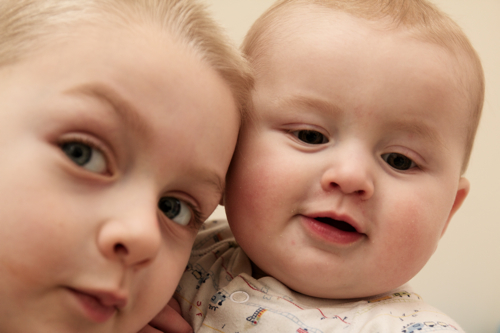 Usually it is Bailey that inches her way into Deacon's monthly photoshoot, but today it was Wyatt who was keen to get in on the action. Wyatt's latest delight is to ask me if Deacon's clothes were ones that he wore when he was a baby. If the answer is yes, he calls Deacon 'baby Wyatt'. Cutie.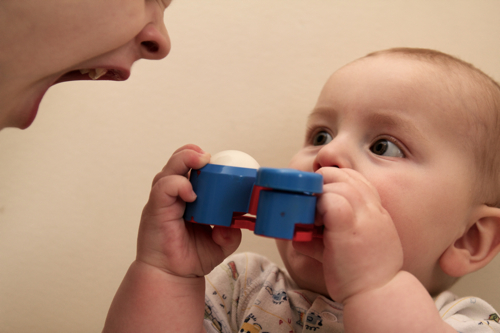 This photo was an attempt to get Deacon to make his goofy face. I sure hope I can capture it before he stops doing it. I asked Markus to help, and this was his contribution. I think Deacon is wondering what in the world is wrong with us.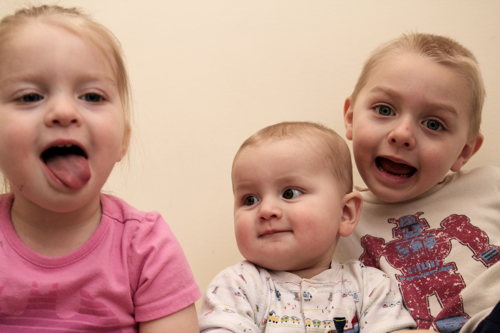 Bailey gets in on the action. Strange faces for photos have become the norm around here. As is evident in the next photo…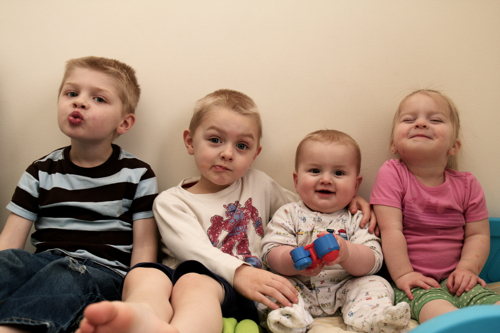 I love you, kiddos!
2 Responses to "Nine Months!"
Add Your Comment