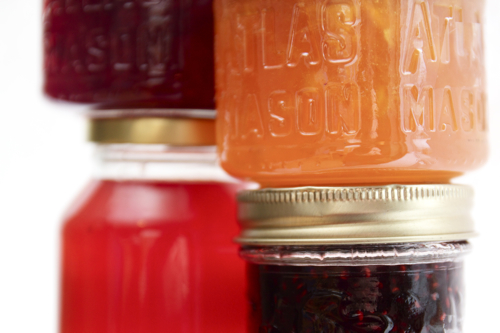 Clay's grandma, we call her Nanny, sent us home yesterday evening with a bag of jam jars. Aren't the colours beautiful? They remind me of precious jewels.
I have experimented with making jam, but it has not become a regular part of my life. I suppose the necessity has not presented itself – our pantry stays fully stocked thanks to Nanny! Peach, strawberry, raspberry jam, and a jar of crab apple jelly – I can't wait to toast some bread, spread on the butter and jam, and get eating!
I read a blog post one time about the irony of the modern independent woman. It's proving impossible for me to track it down right now so I will do my best to blunder through re-telling you the main idea. She talked about how women today think that if they have a good job that pays the bills and allows them to buy the clothes they want, the food they want, and money to do what they want, that they have achieved independence. In reality, those women are inescapably dependent. They depend on companies to make their clothes. They depend on the grocery store/restaurant to supply them with food. And jam. One only needs to look to the nearest grandma who can cook enough for an army in a closet-sized kitchen, harvest produce to can preserves that last right through the dreariness of winter, sew new clothes and mend old ones, and do countless other things herself, to realize what a truly independent woman looks like.
I want to be like that.
5 Responses to "Precious Jewels"
Add Your Comment