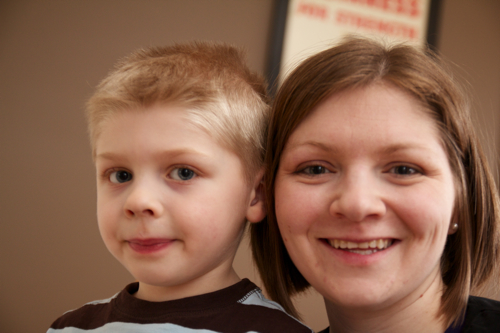 I was having a bad afternoon, and needed to get ready to go out for supper with Clay. A birthday supper date was on the agenda. I knew I would probably be in a better mood if I put a little effort into the way I looked, especially after drying my eyes from a good cry. So I fixed my hair, and put on some makeup. I contemplated changing out of my jeans and plaid shirt, but I certainly am a girl who prefers comfort over fashion, so I wasn't very motivated to get dressed up. I decided to consult my boys. They'd have an inside look on what my guy would like.
"Do you guys think I should wear this for my date with Daddy, or should I change into something else?"
"You mean, something prettier?" Their innocent faces inquired.
"Yes, something prettier."
"Do you have any clothes that are pretty?" They wondered. We made our way into the closet.
"Yes, I have some skirts over there, and some dresses."
"Where are the dresses?" Markus wanted to know.
"They're over here. I have this pink one, a purple one, and this other one with lots of colours."
"Well, I think you should wear the purple one, because that shirt is kind of something that looks more like what a boy would wear. Right?" An innocent smile and questioning eyes.
Oh Markus, you are too cute! The purple dress it was. I was freezing in it, thanks to the freezing rain and snow that fell while we were out, but it definitely lifted my spirit to remember my little man and his encouraging words.
Add Your Comment