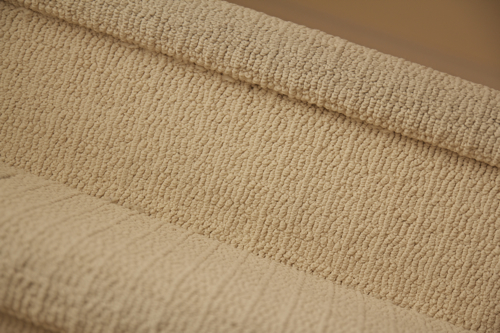 When we bought our house, we were thrilled with almost all of the finishing details. The main level has real hardwood floors, the trim and casings are a beautiful upgrade from the usual 'builder basic', and it just felt like everything was a step up from the other houses we had looked at. Everything that is, except for the nearly-white carpet. (And the countertops, but my beef is not with them today.)
It's a nice enough looking carpet, but the quality is terrible. I've witnessed more than a few brawls between the vacuum and the carpet. The vacuum always wins, and the stairs are looking battered as a result. And of course, as I mentioned, it is white.
Who in their right mind puts white carpet in a house that will most likely be lived in by a young family? Having potty trained Markus in a house with a very forgiving multi-coloured berber rug, I was scared of this floor. How do you hide a potty stains on white? Now, somehow we have managed to survive potty training two kids in this house.
But we knew…we just knew that there would come a day when a sick kid would not make it to the toilet in time. You know what I am talking about. I will spare you the gory details, but please, if you are ever in a position of influence, whether in your own home or in someone else's, and white carpet is being weighed as an option….remember Clay and I, cleaning tomatoey vomit out of white carpet at 2:00 a.m.
Don't go there, folks. Just don't.
Put hardwood in a kids' room. For the love of all that is good!
2 Responses to "Think Twice"
Add Your Comment