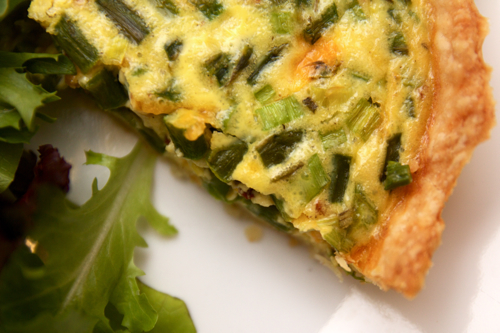 Only within the last year have I started enjoying quiche. It just wasn't really ever on my radar. Thanks, Jean, for pushing me in this direction!
Today I adapted a recipe from the Simply In Season Cookbook. You can pick it up at Ten Thousand Villages, and I highly recommend you do!
Spring Asparagus Quiche
9-inch pie crust
Roll out and gently press into pie or tart pan. Prick it profusely to avoid excess puffing. Don't you like my recipe writing lingo? Put into a 375 degree oven to blind bake for about 15 minutes. Oh my, I am already speaking in vague Grandma cooking terms!
(Sometime I will share my favourite crust recipe, but use whatever you like. The filling is the star in a quiche, and even a lousy crust tastes good if the filling is good)
3 eggs
1 cup evaporated milk
(Instead I used a combination of whipping cream, half & half, milk, and water from steaming the asparagus: about 1/4 cup of each. This is less about being a culinary mastermind, and more about me wondering what in the world is evaporated milk anyway?)
1/4 tsp salt
1/4 tsp pepper
Beat together and set aside.
1 1/2 cups asparagus, steamed and chopped
1 cup cheddar cheese, shredded
1/4 cup bacon, fried and crumbled
1/4 cup green onion, chopped
1 tablespoon fresh rosemary, chopped
Mix together and combine with egg mixture.
Remove your crust from the oven, and turn your oven down to 350. Pour the filling into your partially baked crust. Be careful not to spill that precious filling all over the inside of your oven, and bake for another 30-35 minutes, or until it's browned on top and the middle is set. If you have time to waste, let it sit for 15 minutes before you cut into it, otherwise just sit in and don't berate yourself for pieces that aren't perfectly smooth on the sides. It will still taste great.
Serve with a green salad. In our house the kids have the option of not eating salad because there's green stuff in the quiche. Sneaky!
Add Your Comment