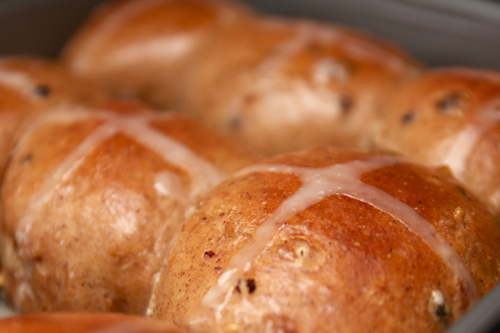 The hot cross buns you buy in the store never did much for me. They never seemed as sweet as I thought they should be, and always too bitter. And what is the deal with that rubbery icing they use to paint the crosses on?
Since I am convinced that nearly every processed food can taste better if homemade, I decided to bake my own before writing them off. I found this recipe and gave it a whirl.
Aside from the photo looking far from appetizing, I think they were really good!
I am tempted to make these an annual tradition on Good Friday, even though they actually have no Christian significance (who knew?!). Perhaps it will be my secret delight to make the kids eat something they think should taste good – because it has icing on it – but they really don't enjoy. Markus can plow through a custard filled donut without coming up for air, but a few bites into this he declared it was "too sugary". Try again, dear boy.
Now if only I could figure out is why my mouth still is zinging from the tiny bit of ground cloves I put in the dough. Maybe for the kids sake and mine, I'll have to think twice about making these every year.
One Response to "Hot Cross Buns"
Add Your Comment