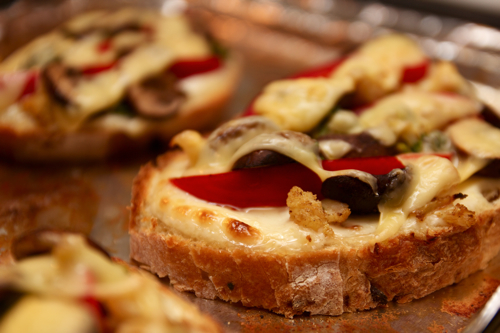 I just thought I would share a recipe tonight. The kids ate toast with honey for supper and were sent to bed a little early, as we tried to make up for a very late night yesterday. Then Clay and I ate our delicious supper in peace, without having to convince little people to like their veggies. I try to get my kids eating healthy stuff, and sometimes it is best for everyone's sanity to just let them eat a little honey toast and send them to bed.
So here's the recipe for the sandwiches. Another win in the vegetarian meal department! They were really easy to make, incredibly delicious, and my meat-loving husband was satisfied.
Portobello, Broccoli, and Red Pepper Melts | Martha Stewart
1 small head broccoli, cut into small florets (stalk discarded)
1 tablespoon olive oil
Coarse salt and ground pepper
4 portobello mushrooms (stems removed), sliced 1/2 inch thick
2 red bell peppers (ribs and seeds removed), sliced 1/2 inch thick
1/4 cup light mayonnaise
1 small garlic clove, crushed through a press
4 thick slices country bread
4 ounces Gouda cheese, thinly sliced
Directions:
1. Heat broiler, with rack set 4 inches from heat. On a rimmed baking sheet lined with aluminum foil, toss broccoli with oil; season with salt and pepper. Broil, tossing once or twice, until broccoli begins to char, 4 to 6 minutes.
2. Add mushrooms and bell peppers to sheet; season with salt and pepper, and toss to combine. Broil, tossing once or twice, until vegetables are tender, 8 to 10 minutes more; set aside.
3. Meanwhile, in a small bowl, combine mayonnaise and garlic; season with salt and pepper. Place bread on a work surface. Dividing evenly, spread with mayonnaise mixture, and top with vegetables, then cheese. Place on baking sheet, and broil until cheese is melted and lightly browned, 2 to 4 minutes.
2 Responses to "Portobello Melts"
Add Your Comment