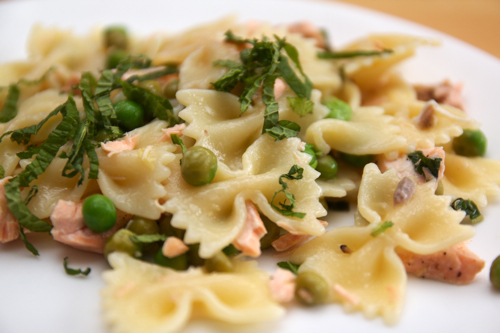 We are not big on seafood in this house. I know fish is good for me, but most of the time I just cannot get past the smell. The sliminess also wigs me out. And I know that good, fresh fish is not supposed to smell fishy, but when you walk past the seafood department in the grocery store in a land locked city such as Saskatoon, it is enough to make a person green in the gills some days.
When the cook doesn't believe in what's on the plate, it's hard to convince the skeptics sitting around the table. I am trying though!
So for supper tonight we had Farfalle with Salmon, Mint, and Peas. It was so delicious! Clay, not being a salmon fan, declared it the best salmon he has ever had. I don't know if that means it was top notch or just good…for salmon. Even Bailey ate it. These days, that is saying something.
Add Your Comment