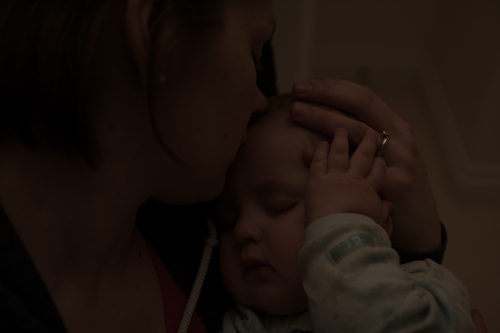 Your eyes speak more than words could say, even if you were able.
Big brothers and sister have all drifted off, and here you are, alone.
"Hold me," you implore.
"Of course." You know I'm willing.
So we sit. We rock. I hold you close, you lean in closer still.
Your heart to mine, our lives entwined, I'll sear this memory deep within.
I love to hear you humming as you let the sleep come over you.
You finish with a simple, "Ma."
Asleep. Precious baby, sleep.
The smell only a baby can bless the world with.
The sound of your breath. Rise and fall.
The softness of your velvet skin.
I'm taking it all in.
I'll sear this memory deep within.
In this moment I understand.
Helpless, lonely, needing comfort,
That's me. Helpless child.
And my heavenly father picks me up.
Holds me close.
And delights in the nearness of his child.
Lord, help me to remember my helplessness.
Sear this memory deep within.
5 Responses to "Sear This Memory Deep Within"
Add Your Comment