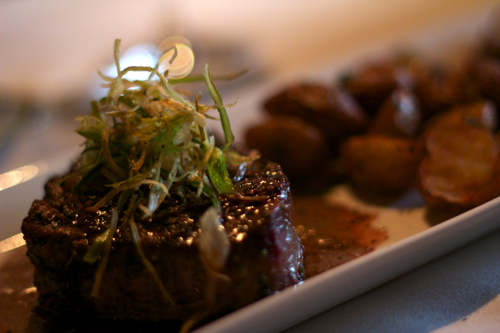 Some of you think we eat out all the time. (Hi, Jessica! haha) Apparently food is exciting for me and I post about it often. We're really not out eating amazing food very often, but when we are…well, I like to take pictures of food.
I don't have anything against kids going to nice places, I just like to go on dates without them sometimes. Call me crazy. So when we had the opportunity to go for supper with friends this evening, who happen to also be parents of 4 children, what criteria did we have when choosing a restaurant? Somewhere without a playground. We had a gift card for TusQ, a restaurant downtown, burning a hole in our pocket, so off we went.
The food was amazing! I had sirloin steak with an espresso white wine sauce, roasted baby potatoes, and mushrooms and artichokes. Truly one of the best steaks I have ever had in my life. I also ate calamari tentacles for the first time. I wouldn't say they were good, but they were better than the rings that I've typically had when I've eaten calamari. Can you tell I'm not a seafood lover?
If I were rich, I would eat here often. As it is, I took a picture to remember how good this meal was because it will probably be a while before we eat here again. I see a lot more playgrounds in my future.
One Response to "No Playgrounds Here"
Add Your Comment