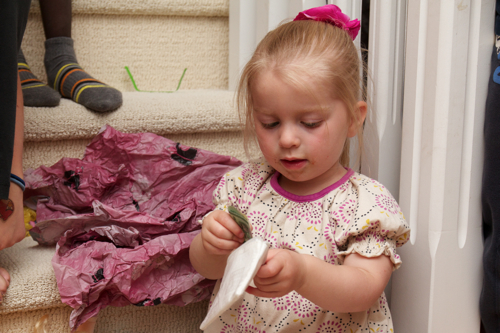 Our sweet Bailey turned 3 today! From her wispy ponytail, to her dirty face, her love for pretty dresses, and her pudgy arms and hands, I love everything about this girl! I do wish she would scream less, but I do love that she is a determined little woman. I am so blessed to be her mama. In teaching and guiding her, I learn so much about myself. In loving her, I realize so much more about the love God has given me. It is such a high and noble calling to raise this little girl up to be a woman and I pray for grace overflowing as I teach my Bailey to be a fierce and tender lover of Jesus.
– – –
I was saying to Clay that in light of all our photography efforts in the last few years, we sure took some mediocre photos today. But I'm okay with that. I've come to the conclusion that I don't need perfect photos. I would rather simply enjoy the day with my kids than spend my time ensuring that I get everything captured perfectly. I want to enjoy the fact that my house is overflowing with loved ones, appreciate all the delightful moments with two eyes, and not spend my day behind a camera trying to remember it all in frame-worthy detail. The most important details are sometimes the ones you can't capture in a photograph because they're deep in your heart.
"Didn't have a camera by my side this time. Hoping I would see the world through both my eyes…
Today I finally overcame trying to fit the world inside a picture frame…"
Thanks, John Mayer.
Add Your Comment