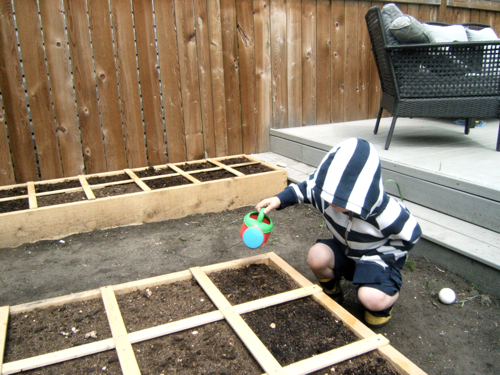 My raised garden bed in the backyard has been replaced by something far better. I'm doing Square Foot Gardening. The basic premise is that you can grow more in less space. My pal, Mel Bartholomew, explains how you can throw out nearly everything you know about traditional row gardening because square foot gardening (hereby known as SFG) is far simpler. Eliminate rows. Eliminate walking paths. Eliminate soil testing and compensating for soil deficiencies. With SFG, you build a raised bed, fill it with "Mel's Mix" soil (1/3 compost, 1/3 peat moss, 1/3 vermiculite), build a grid for the top, plant, and feast your eyes on your garden growing while all the row gardeners break their backs pulling weeds. It's a bit of a time investment the first year, which I can attest to, but once the beds are built and soil is in, it's nearly no work at all.
Clay and I built the boxes a few weeks ago. It was our first building project without any help from either of our dads, and are we ever proud of our accomplishment! They are first class garden boxes, if I do say so myself.
We picked up all the needed soil components last weekend. Big shout out to Peavey Mart – the only place I could track down big bags of vermiculite!
My father-in-law helped me mix the soil on Friday, he built the grid with Clay on Saturday, and today the boys helped me plant! We have one more box to plant tomorrow, and then we'll finally be done the beginning of this venture!
I know a lot of people are curious to see how it's going to take shape, so I hope everything goes according to plan and grows like crazy…so I don't look crazy for doing this hair-brained idea. But it will work. Come on, look at the cover of the book. Mel wouldn't lead me astray. Who wouldn't want to garden like him? He looks so happy! And nice!
Big shout out to Wyatt too, who took these photos!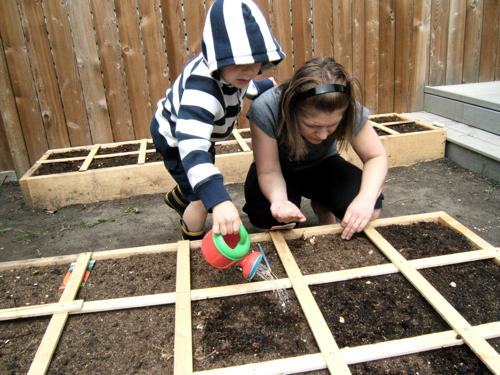 One Response to "Square Foot Gardening"
Add Your Comment