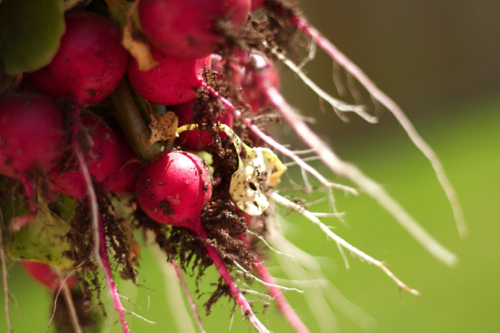 Behold, summer's first harvest!
My little square foot garden is humming along, relatively unscathed by the immense rainfall we've had in the last few weeks. Yay for raised beds and soil with good drainage! The only thing not growing are my herbs. What is the deal with herbs? Every year I try, and every year I am disappointed. All I can say to all the stupid things I have pinned on Pinterest about how easy it is to grow herbs is… "get lost". That is all.
Okay I'm done ranting. Back to my beautiful radishes. These guys taste amazing! Probably the spiciest radishes I have ever eaten – store bought ones don't hold a candle to them! I will probably plant another round of them soon, because they produce so quickly. I think they were 5 weeks from seed to being ready.
We have enjoyed a few strawberries already too. Each time one ripens, I cut it into pieces so that all the kids get a bite. Then they all exclaim, "Mmmmm! It is so healthy! This is the best strawberry I have ever eaten in my whole life! I LOVE healthy food!" I love their zest for life. Keep it up kiddos. And remember how much you love healthy food next time you think about sinking your teeth into a sprinkle donut.
My peas need something to climb soon. My tomatoes need to be staked. Okay, so my negligence in the garden is starting to show a little. I call myself an accidental gardener. Whatever grows in my garden wants to live, because I don't do any coaxing. Live or die, it's your choice. But please live…it makes me look good.
2 Responses to "The Accidental Gardener"
Add Your Comment