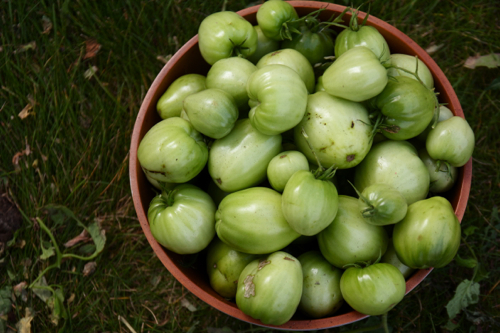 The temperature threatened to dip a little too low for comfort last night, so it was time to bring in the tomatoes. I cannot believe how many there are! This is one third of the bounty I found on my plants. My four plants. I did not expect to have this many tomatoes from four plants!
Two years ago I planted tomatoes and they had blight. I ended up with one ripe tomato worth eating. One. I was so discouraged that I didn't even plant any last year. Oh yeah, and I had a baby. I didn't want to grow anything slightly temperamental. Well, I am hoping for better luck this year!
So long as these guys ripen and stay looking good, I will have the lovely problem of figuring out what to do with all these tomatoes. Clay votes salsa. Now I just need a foolproof recipe. Who wants a pantry full of bland salsa? Not me.
One Response to "Tomato Harvest"
Add Your Comment