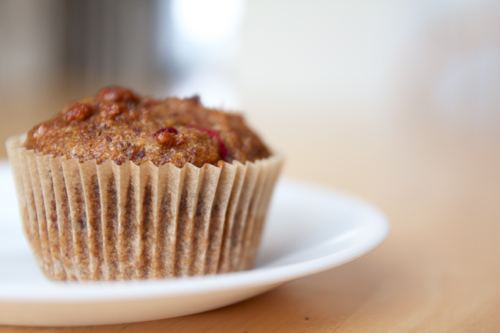 I thought I'd share another muffin recipe. These are adapted from a recipe I got from my sister Jude, as most of my muffin recipes are. She is a master at packing heaps of goodness into every bite. Originally they had a lot of bran in them, but that seems to go straight through my toddlers so I have scaled back on the bran.
Orange Cranberry Muffins
2 1/2 c whole grain spelt flour
1 c toasted wheat germ
1 c ground flax seed
1 c toasted pecans, crushed
1 Tbsp baking powder
1 tsp baking soda
1 tsp cinnamon
1/8 tsp cloves
1/2 tsp salt
Whisk above until combined. Then stir in
2 c fresh cranberries, chopped
In a blender:
1 whole orange, cut into pieces (don't peel it!)
1 c yogurt
3/4 c brown sugar
1/2 c fancy molasses
1/2 c canola oil
2 eggs
Blend until smooth.
Fold wet ingredients into dry, and bake at 375F for 20 minutes.
Makes 24 muffins.
Add Your Comment