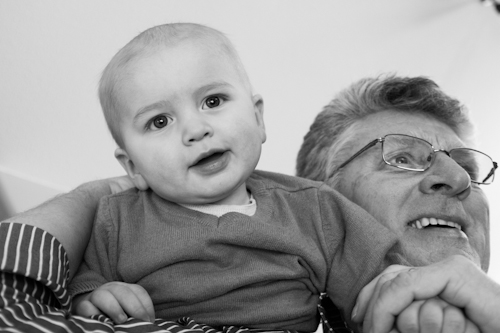 Finding the light.
I feel like I'm stretching the theme a bit here. I wanted to do something very creative. Something involving sunlight and warm feelings on a cold day. But you know, sunny days don't come consistently in the great white north in January/February. So I say this photo still works, because I got some awesome catch lights in Deacon's eyes.
This boy sure loves his Grandpa. Since he refuses to say anything that contains more than one syllable, he calls my dad, "Pa". It's pronounced 'puh', and is not to be confused with his word for my father-in-law, which is "Pa" (short for Pappy).
I will make an effort to take photos of my other children in the coming weeks…this guy is just so much easier to get candid photos of. The others are always giving me goofy grins: which are great, but not really what I am going for in shooting lifestyle photos.
One Response to "Grandpa's Boy {5/52}"
Add Your Comment