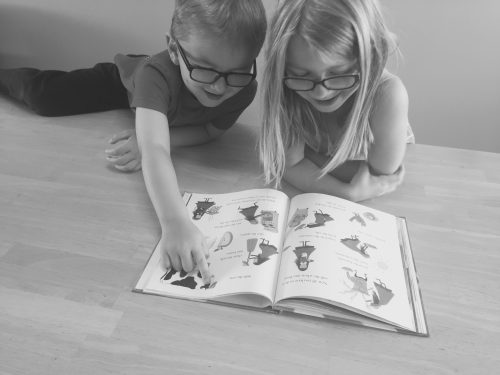 Home based education allows for a lot of freedom. It's one of the primary reasons we were drawn to it. We're the ones who decide what our kids will learn, and when they'll learn it. We determine when the intentional education for the day starts. When we need or want days off, we answer to ourselves. Our kids' most triumphantly exercised home-educational freedom is using the bathroom when they want, for as long as they want. (Honestly, one of them might not survive in public school simply because of the amount of their time spent in the bathroom…it's a happy place, apparently.)
Being able to set our own schedule has always meant we start the year late. Because we can. I'd make a point of being a fun mom on the day all the other kids were going back-to-school. A day at the beach? Yes. Ice cream? Of course. Posting photos of these festivities online as a declaration our freedom? Naturally. How else would everyone else be able to appreciate the fact that I slept in and savoured my coffee while they were back to the grind of packing lunches? I aim to serve.
There are very few rules in home education. You really can do it any way you want. The door is wide open for anyone: from the family who essentially does school at home just like it would be in a conventional classroom, to the unschoolers who trust their kids will learn what they need to learn when they need to learn it. School bells and timetables vs. kids who can't read until they're teenagers. For the record, both of these extremes make me uncomfortable. Does anyone else feel itchy?
Admittedly, I am a rebel at my core. I question the status quo. I have done plenty of things in my life as reaction against what is expected of me. This is in part why my hair was purple when I was a teen, and why I married a dashingly handsome, mysterious, bearded man at 20. After all, who says hair should be neutral, and that 20 is too young to be making major life choices? I sure showed them. Sometimes, like with my hair, my rebellion is just an exercise of my autonomy, and sometimes it's a fight against pervasive cultural norms: 20 year olds might be stupid, but they can be married and committed to being stupid together!
Homeschooling means we can start breakfast when everyone else is already starting school for the day. It means we can call baking cake a math lesson, and take a trip to the CSA farm and call it science (I'd classify that Mental Health as well). The teenage girl in me who skipped every scheduled first period class of grade 12 is triumphant to have discovered that the people who determine school timetables may have scarred my childhood, but they don't get to mess with my kids!
So, no one is more surprised than me at the fact that this year we started school earlier than the public school system: 3 days earlier. We hit the books, I got horrifyingly sick with a throat infection, and we just kept pushing through. For days I could hardly swallow, and moved through the house at the speed of a sloth, but we didn't take a day off.
Who am I?  What has happened to me? I have no idea, but it feels good to have week one under our belts.
2 Responses to "Educational Freedom"
Add Your Comment