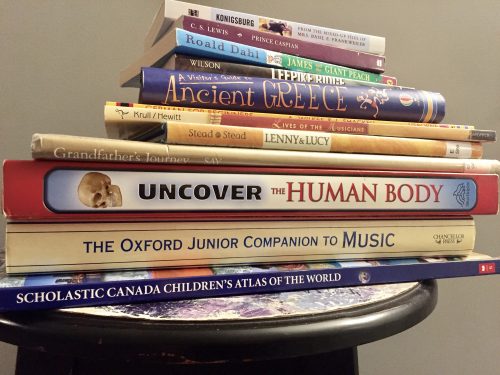 Last year was a difficult school year. I hadn't kept up with my three school-aged kids, and I couldn't fathom how I would be able to get my act together to teach all four, with Deacon starting Kindergarten. I tapped out: I didn't feel I was up to the task of homeschooling everyone.
So we enrolled Markus and Wyatt (grades 5 and 4) in an online school that would allow them some of the freedom and flexibility of home education, while taking the work of teaching off of me. It all sounded great, and I felt a huge weight lift off my shoulders as I surveyed the year ahead. The school has a lot of positive reviews, and we thought it would be a good step in providing our kids with a bit more structure.
But it was honestly a terrible fit for our family.
There were too many limitations, too many activities to log hours for, the school software was painfully outdated, we encountered out of date curriculum, and I was spending so much time answering questions about assignments. They had teachers to ask, but it was easier to ask a parent who's across the room than wait hours for a reply from a teacher.
I thought I could just grin and bear it. This was what I had signed up for, right? I should stick with it and see it through for the year. What kind of message would I be sending my kids if we quit so soon? But this wasn't what I had signed up for. I had signed up for a progressive online school that would be flexible and interactive, teaching my kids at their own pace and engaging their strengths. One was doing okay, the other was wilting, and I was busy nailing down an education plan to submit to our homeschool liaison before the registration deadline so we could still get a little funding to help with books for the year.
I'm sure by the school's standards we have given up prematurely, and that 2 weeks is not enough time to make a fair judgment about whether or not this is going to work. I know the system the school has created works for a lot of families, but our family is not one of them.
Four months ago I was weary and burdened by homeschooling. I felt inadequate, unequipped, unqualified, and over my head.  I was sure my kids needed something that I wasn't able to give them, so I waved a white flag in surrender.
Today I feel more convinced than ever that the best education my kids can get is the one we give them at home. I can give my kids a rich learning environment, and and they can thrive here. What was a burden a few months ago is now a flight of freedom. I've been amazed already at what they are capable of when they're given a little direction and a lot of room to discover. They're excited about the upcoming school year, and I can't wait to see all the good things in store.
What kind of message am I sending my kids by quitting? I hope they're hearing loud and clear that if something isn't working, you should find a solution that does.
3 Responses to "It's okay to quit."
Add Your Comment