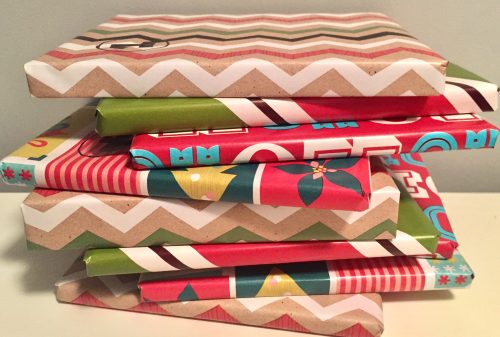 I finally put away all the Christmas stuff! Now, before my mind moves on to other things, I want to take a moment to reflect and write some notes-to-self for Christmas 2017. Too often I make mental notes that get lost in my mind palace, never to be seen or heard from again. So here are my top things to note for next year.
– Be glad. Rejoice and celebrate! Christ is born, we are rejoicing in the grace of God, and in His epic redemptive plan to save our broken humanity. Crank up the Christmas music, simmer apple cider, bake cookies and slather them in icing and sprinkles, learn a new song on the piano, welcome people into your home for a meal, and smile at strangers when you are shopping. You show what you believe through what you do, so let your actions be a celebration of the good news that God is with us!
– Be generous. As a worshipper of the abundantly generous God of the universe, give freely. He is a loving father who gives good gifts, and the Creator of material things. Don't be afraid that being generous with stuff is somehow unspiritual. The God who put on human flesh proves that spirituality is not only immaterial. Give stuff with joy, give with gladness, give out of a heart that knows what it is to joyfully receive!
– Be realistic. You are a sinner, surrounded by sinners. Don't expect the people around you to be transformed into angels in your presence simply because it's Christmas. People will hurt you and emotions will run high. Relationships can be tricky and you're not doing anyone any favours by expecting ease and comfort. Expect a little drama, and rely on the Holy Spirit to help you love people well.
– Understock your fridge. When you have a get-together every day for a week, do not fill your fridge up for the meals you think you'll eat at home. You won't cook for a week. Here's what you should have: eggs, bread, milk, cereal, Kraft Dinner, and some fruit. Your veggies will go bad. Your salami will go bad. Your everything will go bad because holiday appetites are different everyday appetites.
– Be an adult. Sure, "adulting is hard". Adulting, if you're an adult, is also reality. So chin up and get on with it. If you feel overwhelmed it might be that you are trying to do too much and you need to lower your expectations. Or it might be that you don't want to mature and grow up. Was life easier when you were a kid and people did everything for you? Sure. Now you're the grown up, so go ahead and act like it. Making stuff happen takes effort: trust that the Holy Spirit will provide what is necessary for you as you seek to be a blessing to others.
– Be free. You are free to make gingerbread houses from scratch, and you are free to buy cookie dough in a plastic tube. You are free to paint custom wrapping paper with your kids, and you are free to let someone at the mall do your gift wrapping. You don't have to do "all the things". Your worth is not in the beauty of your Instagram photos. You're not the worst mother ever because you didn't print photo Christmas cards or buy everyone matching elf pajamas. During some seasons of life you're capable of a lot, and other times you're capable of little. You are free to say no, and you are free to not allow others' stress be a contagion to you.
– Be in prayer. Pray for peace and joy in the face of cultural hectic overwhelm. Pray for the work of your hands as you do things with and for your family. Pray that this would be a season of rejoicing in the good news of God with us, and not a time to be shackled by accusation and guilt over whatever you're not doing. Pray that you would delight in Jesus and that you would have opportunities to share with your kids how amazing He is, and that they would taste and see that the Lord is good.
He is the reason for the season. But more than this, He is the Lord of the season. He is the Lord of the season because He is the Lord of the earth.
– Douglas Wilson, God Rest Ye Merry
Add Your Comment