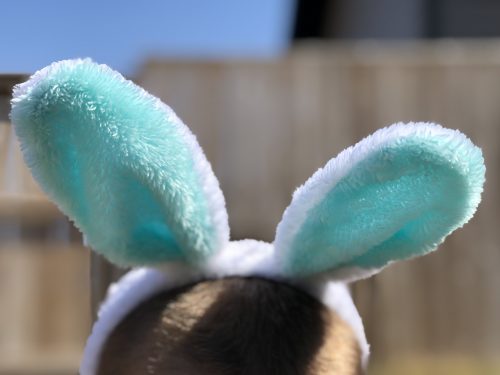 You know that moment when you wish you could respond to someone with a poignant and articulate answer, but nothing comes out? You look at them with a dazed and confused expression and awkwardly wish you could rewind and try again? Or fast forward your way straight out of there?
Yeah, I had one of those moments last Thursday.
One of our sons had the joy of winning a prize in an Easter colouring contest, and we went to the city sports facility to pick it up. He had no idea what he had won, only that it was going to be epic, because he won a colouring contest! Truly, when you are seven there are few things that compare!
We approached the desk and informed them why we were there, and she retrieved a cellophane wrapped basket of delight for my eager boy, congratulating him on winning.
Then she asked him if he was excited for the Easter Bunny to bring him treats on Sunday.
I would love to tell you that I responded, "Actually, no, we're Christians. For us, Easter is about celebrating the fact that Jesus rose from the grave!"
Instead, he and I looked at each other in stunned silence.
…I sort of chuckled nervously…
"Well… thanks!"
When I told Clay about it later I was just so appalled at my utter lack of ability to share the good news of Jesus Christ with someone lost and in need of the gospel. 
The gospel is the truth that gives me joy for today, and hope for tomorrow! "I have been crucified with Christ. It is no longer I who live but Christ who lives in me. And the life I now live in the flesh I live by faith in the Son of God, who loved me and gave himself for me." (Galatians 2:20) If not for Jesus, my life is meaningless. Yet when the ball was lobbed at me for an easy hit, I didn't even swing. I just watched it cross the plate and awkwardly walked back to the dugout.
It was an opportunity for humble repentance on my part. I have good news and I kept it hidden. Lord, forgive me. It was an opportunity to ask myself how much I actually care that so many people around me are lost and don't know how what Jesus did for sinners? Honestly, too often this fact does not bother me like it should. Lord, forgive me. It was an opportunity for me to wrestle with how atrocious sin really is. Sin is not about minor infractions like white lies, sin is the deadly sickness of a heart that is in absolute rebellion against the God who made us. Each one of us has chosen to serve ourselves rather than God, and declared war on his good and perfect plans for us. Lord, forgive me.
I am so very thankful that my record of righteousness before God does not depend on how well I share the gospel. I am righteous because of what Jesus did. I am so thankful that on Good Friday, Jesus took my place. He hung on a cross, dying a shameful death on behalf of every wretch who couldn't clean themselves up, but before the earth was formed were purposed to be saved and brought into the family of God (Ephesians 1:4). It was the will of the Lord to crush him, (Isaiah 53:10a) and lay on him the iniquity of us all (Isaiah 53:6b), so by the one man's obedience the many will be made righteous (Romans 5:19).
I am the criminal who deserved the punishment that was unleashed on him. I lived a life of rebellion against God. I acted like his design for my life was restrictive, and I foolishly followed my own will and desires. I put my glory ahead of his. I served myself instead of him, I loved myself instead of him. For this and so much more I deserve to be separated from him forever, without hope. There is nothing I could do to fix the situation I put myself in. I deserved to die alone and apart from God. I was by nature a child of wrath, like the rest of mankind.  (Ephesians 2:3)
But God,
being rich in mercy,
because of the great love with which he loved us,
even when we were dead in our trespasses,
made us alive together with Christ
-by grace you have been saved –
(Ephesians 2:4-5)
So…no! Easter isn't about us looking forward to a bunny bringing us treats! We get to look forward to something so much better on Easter morning! We have a living hope and an eternal inheritance in Christ Jesus who defeated death and sin! Easter is a day set apart to remember and celebrate the resurrection of Jesus Christ. He is alive! This changes everything about my life. God, give me boldness to give a reason for the hope that is in me! (1 Peter 3:15)